Description:
Tonite, Jen n Ally stopped by at the bar.They sang some songs ( it's Karaoke Nite ) and they told me abt a new drink named Rocket Pop.
They had the drink from other bar,and they said it's soooooooooooooo good!!!!!!!!!! It tastes like rocket pop candy. I know how it tastes ( I had some of that stuff when I was at school ). It's popping in your mouth. ha ha ha.
So,I was challanged to make a try tonite.
Voilaaaaaaa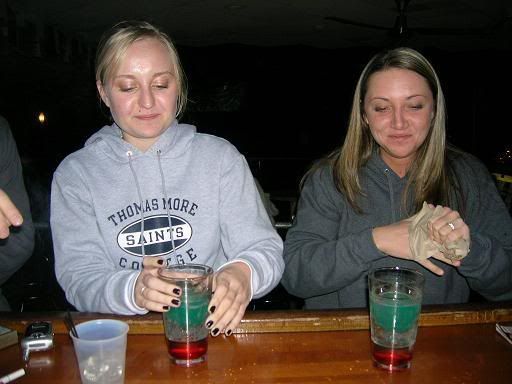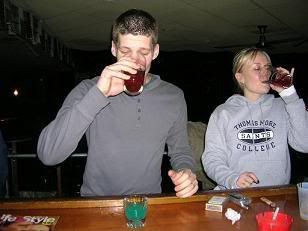 Ingredients:
A. ( Black & Blue Drink )
1 shot of Blue Curacao
1 shot of Blackhaus
1 glass of ice
2 splashes of Sweet & Sour Mix
B
1/4 glass of Sprite
Grenadine ( cherry juice )
Directions:
Mix and shake all the ingredients, pour in a shot glass. It's called Black & Blue.
Take 1 big glass and pour the 1/4 of sprite
Float the grenadine slowly,till it sinks down.
Dip Black & Blue drink into the glass of sprite n grenadine.
Let it sink down,and drink up.
It tastes soooooooooooo gooooooooooodddddddddddd.Taste like candy!!!
Try it!!!
I had one already. ^___^